Roofing is one of the most important building projects a homeowner can undertake. It protects your home from weather, fire, and other hazards. But when it comes to hiring a contractor, you need to consider more than just price. You also need to consider the quality of the workmanship and the reputation of the roofer. If you're not careful, you could end up with shoddy work or a contractor who cheats you out of money.
If you're thinking about hiring a roofer, there are a lot of things to consider before you make the decision. You want to make sure that you're getting the best deal possible while working with a contractor who has experience and will be able to complete the job right. Here are five things to consider when choosing a roofer for your home.
1. Get a referral
A reliable way to find a qualified roofing contractor is to query your friends and neighbors. Within the past few years, has anyone in your life had work done on his roof? Make a list of names, reach out to each person, and ask two questions: Were they happy with the job done? Would he work with that contractor again? Testimonials provide the most accurate picture of what your experience might be with any given company, and you can count on personal contacts to give you honest feedback. Outside of your circle, you can also get leads from lumber yards and hardware stores in your area.
2. Do your research
After you've identified at least three qualified roofers, you can get started investigating each one. Start by verifying the businesses' contact information. Next, confirm that each one is licensed and insured. Consult your chamber of commerce and the Better Business Bureau to be certain there are no red flags to be aware of. Then finally look for reports on contractor review sites, such as HomeAdvisor.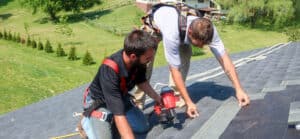 3. Meet them face-to-face 
After sifting through, invite the prospective contractors to visit your home to scope out the job. You'll want to discuss roofing materials and the full extent of the work that is to be done. And remember to ask about the time and manpower needed for completion. Observe the contractor: He should be enthusiastic, knowledgeable, and professional in demeanor. Certainly, you're dealing with an authority on materials and methods, but don't be deterred from participating in the decision-making process! Ask a lot of questions and before they leave, and ask for a list of references (then be sure to check them).
4. Get it in writing
Work should not begin until you have a signed contract detailing every aspect of the job. Make certain that it covers safety procedures and liability, including workers' compensation. The contract should also specify clean-up methods, payment amounts, and the schedule. Consider requesting a lien waiver to protect against claims that could arise if the roofer fails to pay a vendor for materials.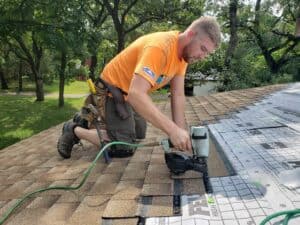 5. You get what you pay for
The cheapest bid may not be your best bet. However, the estimates given certainly are a factor to consider. Most important is your level of confidence in a given roofer's ability to do an outstanding job. If you're impressed by a company that isn't the cheapest, ask yourself, "How much is peace of mind worth to me?" For many homeowners, it's worth quite a lot.
In the end, If you hire well, you can expect that the roofer will get the job done on time, on budget, and using the best materials for your house style, as well as for the climate where you live. It comes down to the people you choose to work with. If you choose the right roofer, you will be able to get the job done right, saving you a lot of money in the long run.